Welcome to the January 2023 Extendify newsletter, where we give web hosts a monthly digest of what they need to know from the WordPress ecosystem.
Tl;dr:
WordPress.org learning content has been updated giving hosts a better source of resources for users and support staff.
CloudFest USA announced with a main theme of "Taking WordPress to Scale."
WordPress.com launches a newsletter product further differentiating its value proposition against hosts offering generic WordPress installations.
State of the Word 2022 presentation offered some insights into WordPress priorities.
Read more below and let us know if you have any thoughts. You can just reply to this email 🙂
Chris
WordPress.org learning content has been updated
In December, the WordPress.org learning team announced further updates to educational materials available freely to the WordPress community. The new content is available at learn.wordpress.org and caters to a variety of users and stakeholders:
We see an opportunity for WordPress hosts to leverage this knowledge base in two ways: (i) direct users here for self-service education, and (ii) level up your support staff by keeping them up to speed on the latest in WordPress.
For Extendify partners your users will get WordPress support content automatically within their WordPress dashboard as part of the February Extendify update. This will put the latest learning resources contextually in the wp-admin dashboard to keep users moving forward before they get stuck.
CloudFest USA announced

CloudFest USA has been officially announced and will take place May 31-June 3, 2023, in Austin, Texas. Importantly, the main theme for CloudFest USA is "Taking WordPress to Scale". We expect lots of relevant content related to performance, usability, security, and more, and expect this event to be a must for US-based WordPress hosts. The conference is being held in parallel with NamesCon Global 2023 so attendees can get the benefit of access to both events. Our team will be there and we hope to see you in person!
WordPress.com launches a newsletter product

Automattic has consistently offered the most differentiated, SaaS/Wix-like experience for WordPress users through its WordPress.com managed hosting. This trend continues with Automattic's recent announcement of a managed newsletter offering. The new newsletter product combines several elements including a newsletter-specific WordPress theme, list management, and email sending to make it super simple for users to collect email addresses and send out blog posts to an email list. Automattic has invested heavily in these capabilities through both Jetpack and its acquisition of Mailpoet.
We think the takeaway for hosts is that competition for great WordPress experiences is getting stiffer. The days of serving up a plain WordPress experience being "good enough" are ending and it is increasingly important to help users get a job done (e.g. build a newsletter, sell products online) rather than just offer infrastructure with plain WordPress.
State of the Word 2022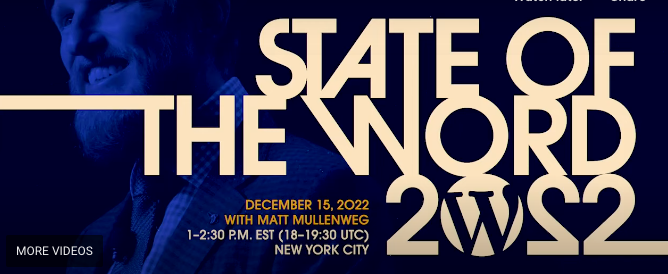 On December 15, 2022, Matt Mullenweg delivered his annual "State of the Word" keynote about the current state and future of WordPress. The most interesting announcement was of a new WordPress sandbox project that uses WebAssembly to run WordPress directly in the browser. While exact sandbox use cases for WordPress hosts aren't yet clear, we'll be working with our hosting partners to evaluate opportunities to allow users to very quickly set up a demo site to start building a WordPress site or to try out a new plugin or theme before installing it on a live site.
A few other highlights from the keynote:
Adoption of the block editor ("Gutenberg") continues to grow both within WordPress and in other products like Tumblr, Day One, and Engine Awesome. This means legacy page builders will continue to lose relevance with modern WordPress.
The return to in-person WordPress events led to 22 WordCamps in 2022.
1,399 people contributed to releases of WordPress in 2022.
New taxonomies for plugins and themes are coming to WordPress to make it easier for users to find products. We think this is a step in the right direction to help users avoid add-ons that are not secure or abandoned.
WordPress turns 20 years old in 2023 🙂.