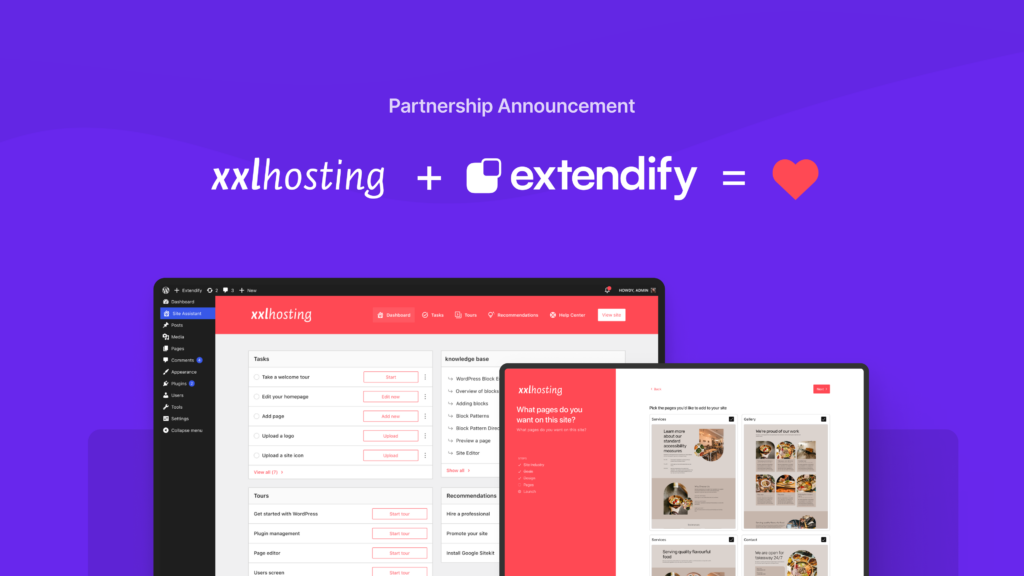 USA and Netherlands – Extendify, the leading solution for web hosts to create world-class WordPress experiences, announces a new partnership with XXL Hosting, a leading hosting provider in the Dutch market.
In order to help their customers easily create their WordPress sites, XXL offers the full Extendify suite to all of their WordPress users at no additional charge. This includes:
Extendify Launch: A guided flow creates a personalized site for new customers in minutes.
Extendify Assist: Smart, personalized recommendations for users to reach their goals.
Extendify Library: A library of beautiful, pre-built components to create pages.
All of the Extendify products are built natively within WordPress, ensuring that customer sites are performant, secure, and can be easily extended.
"We saw that customers would struggle with WordPress after they signed up. We don't want to just provide hosting to our customers, but want to ensure they have all of the tools and support they need to succeed." said Sander Cruiming, Founder and CEO of XXL Hosting.
When XXL Hosting customers log into their WordPress dashboard for the first time, they will be guided through an onboarding flow that will help them create an initial website in minutes.
"XXL Hosting is a perfect partner for us because they care about their customers' success and want to provide a solution that helps them meet their goals." said Chris Lubkert, Co-Founder of Extendify.
About Extendify:
Extendify provides a suite of products that enables web hosts to offer a world-class WordPress experience for their customers. Extendify contributes to core WordPress development and is committed to building native WordPress solutions that combine the ease of use of proprietary website builders with the power of the open-source WordPress platform. Founded in 2019, Extendify is led by executives from Automattic.
For more information, visit https://extendify.com/
About XXL Hosting:
XXL Hosting is more than just a hosting provider. We want to help our customers to succeed and grow online. That's why we offer more than just hosting and domains: value added services around performance, security and marketing accelerate the online success of our customers. Combined with best-in-class customer service, we are the foundation for online growth and the trusted advisor for 8.000+ small businesses and 500+ web agencies in the Netherlands. According to Webhosters.nl, XXL Hosting is the best-rated hoster in the Netherlands for value for money, hosting quality, as well as customer service.
For more information, visit https://www.xxlhosting.nl/.