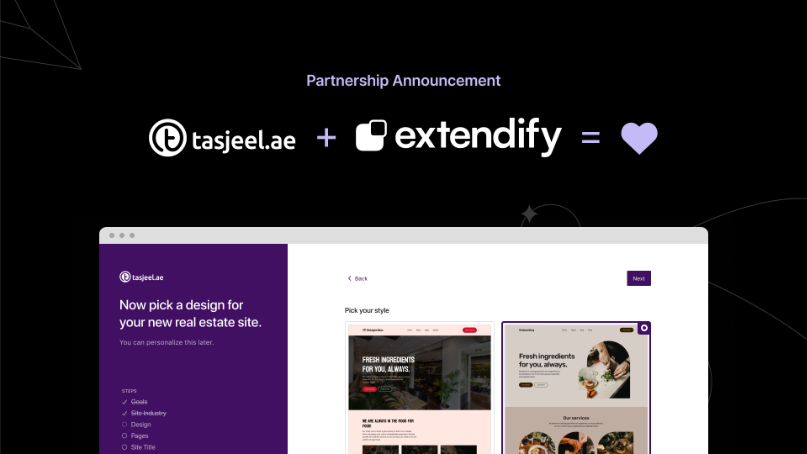 USA, United Arab Emirates – Extendify, the leading solution for web hosts to create world-class WordPress experiences, decrease churn, and increase lifetime value, announces a new partnership with Tasjeel, a leading .ae domain and hosting provider in the UAE.
Tasjeel cares deeply about helping their customers succeed in creating a compelling digital presence and will offer the full Extendify suite to all WordPress customers at no additional charge. This includes:
Extendify Launch: A guided flow creates a personalized site for new customers in minutes
Extendify Assist: Smart, personalized recommendations for users to reach their goals
Extendify Library: A library of beautiful, pre-built components to create pages
"We saw UAE entrepreneurs and small businesses struggling to set-up their online presence because of the learning curve required after installing WordPress. Our partnership with Extendify allows our clients in the UAE and wider GCC region to easily build a website on their own via WordPress due to the intuitive onboarding process on the world's most used Content Management System." said Tasjeel CEO, Wahid Abdelaziz.
When Tasjeel customers log into their WordPress dashboard for the first time, they are guided through an onboarding flow that helps them create an initial website in minutes.
"WordPress is an incredibly powerful platform and our mission is to make that power more accessible to SMBs across the globe. Tasjeel is a perfect partner for us because they understand that their customers are looking for a solution and not simply a tool." said Chris Lubkert, Co-Founder of Extendify.
About Extendify:
Extendify provides a suite of products that enables web hosts to provide a world-class WordPress experience for their customers. Extendify contributes to core WordPress development and is committed to building native WordPress solutions that combine the ease of use of proprietary website builders with the power of the open-source WordPress platform. Founded in 2019, Extendify is led by executives from Automattic.
For more information, visit https://extendify.com/.
About Tasjeel:
Tasjeel.ae is a leading .aeDA-accredited domain registrar and web hosting company, with a special focus on serving UAE start-ups, small businesses and entrepreneurs. Since its launch in 2009, Tasjeel has become one of the fastest growing domain registrars in the UAE. A relentless focus on customer service has seen the company achieve an 'Excellent' rating on Trustpilot.com, and Tasjeel is now recognised as a primary disruptor in the marketplace.
For more information, visit https://www.tasjeel.ae/.