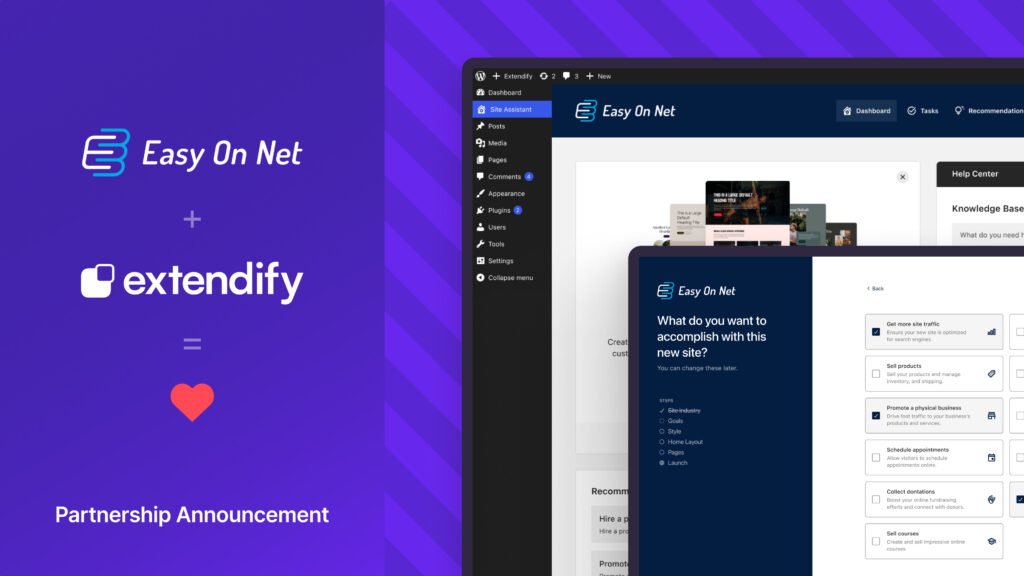 USA and Canada – Extendify, the leading solution for web hosts to create world-class WordPress experiences, announces a partnership with Easy On Net, a leader in the Canadian hosting market.
In order to help their customers easily create their WordPress sites, Easy On Net offers the full Extendify suite to all of their WordPress users at no additional charge. This includes:
Extendify Launch: A guided flow creates a personalized site for new customers in minutes.
Extendify Assist: An Easy On Net-branded dashboard with tools and recommendations for WordPress users
Extendify Library: A library of beautiful, pre-built components to create pages.
All of the Extendify products are built natively within WordPress, ensuring that customer sites are performant, secure, and can be easily extended.
"Easy On Net is growing rapidly and we wanted a solution to effectively activate and retain new users. Extendify turns WordPress into a turnkey solution for our users, allowing us to scale up effortlessly." said Derek Walmsley, CEO of Easy On Net.
Easy On Net offers Extendify in both "Do It For Me" and "Do It Yourself" models. Because Extendify builds websites using only core WordPress components, Easy On Net has the flexibility to extend sites created with Extendify Launch using custom development or plugins.
"We saw an amazing fit with Easy On Net because they are growing both organically and through acquisitions. This means Extendify is a tool for Easy On Net to onboard brand new users as well as a way to unify user experience across new hosting brands as they are acquired." said Artur Grabowski, Co-Founder of Extendify.
About Extendify:
Extendify provides a suite of products that enables web hosts to offer a world-class WordPress experience for their customers. Extendify contributes to core WordPress development and is committed to building native WordPress solutions that combine the ease of use of proprietary website builders with the power of the open-source WordPress platform. Founded in 2019, Extendify is led by executives from Automattic.
For more information, visit https://extendify.com/
About Easy On Net:
Easy On Net offers scalable hosting services for clients in USA and Canada. In addition to WordPress hosting, Easy On Net provides technology solutions, cloud hosting, DDoS protection, IT consulting, disaster recovery, remote support and network monitoring services.
For more information, visit https://easyonnet.com/.